Telephone Controllable CCTV Video & Audio, Alarm Switcher.
Let you See and hear wherever you go, think, want!
The Only One in the World. Not a Internet DATA Transmitter!
Features:
For Black/White and Color CCTV Cameras.
One-touch controllable from the existing telephone.
Compatible connection with any telephone system.
Recorder connection available for picture/voice recording.
With Alarm/Audio/Video input & Audio/Video output ports.
Instant monitoring a specific CCD camera by using the connected telephone.
Loop scan 1 ~ 8 channels.
Fixed channel monitoring.
Bypass specific channels.
Greatly reduce system-installation expense (cabling time and cost) even to set up a complete security network.
Provide Real-Time on-the-spot monitoring.
0 ~ 120 seconds interval time setting .
Specification:

Video Input/Output Resistor: 75 ohms
Audio Input Resistor: 1K ohms
Audio Output Resistor: 10K ohms
Video/Audio output Level: 1Vp-p
Power Source: +12VDC Adapter
Power Consumption: 5 W
Advantages:

Safety and convenience:
Where goes the telephone line, where can you control the surroundings.

Easy installation:
Forming a strict & human-nature conveillance network with only one telephone line and coaxial cable.

High compatibility:
Compatible connecting with any telephone and PABX.

User friendliness:
Transmit video & audio by telephone line.

Flexible expension:
Easy to expand system and change function with modular deisgn.

On-Spot monitoring:
Able to monitor the sound of specific rooms like bady"s room, etc.
Comparison with Other traditional auto switchers
CEI-888
Doesn"t have to connect side-by-side with the monitor but can be just hidden somewhere so as not destroy the original design . The installation cost can be also greatly saved.
Compatible connecting with any corded or cordless phone.
Can independently control the volume of each camera.
Can remote select and monit channels by any touch-tone telephone from outside.
The only telephone-controllable channel switcher in the world.
Other traditional auto switchers
Must side-by-side connect with monitor so that the installation may more or less destroy interior design of home, office or factory. Theoretically, the less destruction, the more difficulty in installation time and cost.
Cannot get the updated sitatuion in emergencies. User may even face the embarrassment of not possibly reaching the auto switchers when the intrusion or harass is ariund the corner.
Cannot independently adjust the volume of each camera.
Many auto switchers are needed if to build a complete surveillance network. Its cost is gearing with quantity of auto switchers connected and indirectly-increased cable installation.
Dimension: 42 x 210 x 250 mm
Package: 80 x 410 x 280 mm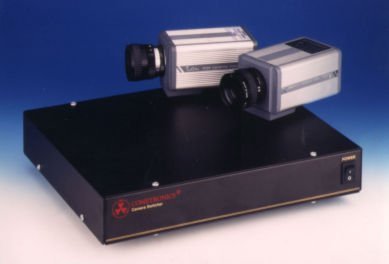 Enlarge