MCP-125A:Big Button Phone with Remote Control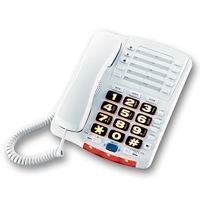 Features:
10 one-touch buttons for speed dialing.
Light keypad.
10 one-touch buttons for speed dialing.
12 two-touch speed-dialing memories.
3 Emergency buttons.
Adjustable incoming volume up to 20 dB.
Speakerphone.
Volume control.
Super bright ring flasher.
Headset in compatible with hearing aid T-coil.
Hold on music, Redial/Pause and Flash buttons.
Auto/Normal switch:automatically turns on the amplifier for the incoming/outing voice volume when you pick up the phone if you select to auto mode. Press AMPLIFY key to reset to the normal volume.
Audio output jack for direct connection to headset.
VMWI: Bright voice mail indicator.
Desk or wall mounting.
Remote Control Function:
RF remote alarm.
Make an emergency call with the remote help pendant.
Dial emergency call and play the recording message automatically.
Recording message time 20 seconds.
Remote turn ON/OFF peakerphone.