MTP-104A:
BIG BUTTON PHONE WITH 9 PHONE ONE-TOUCH SPEED DIALING MEMORIES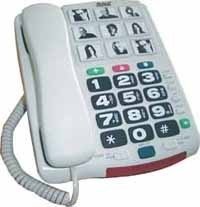 Features:
9 Photo one-touch buttons to speed-dialing.
3 Emergency buttons.
Adjustable incoming volume up to 20 dB.
Speakerphone Function.
Tone & Volume control.
Super bridge righ flasher.
Adjustable ringing volume.
Handset is compatible with hearing aid T-coil.
Hold on music.
Redial/Pause and Flash buttons.
Desk or Wall monting.